ChicCurve Best Waist Trainer for Women Reviews
Aug 17,2023 | ChicCurve
Hello, everyone, this is ChicCurve official channel. Today, We would like to share something about waist trainers and corsets. OK, let's get started.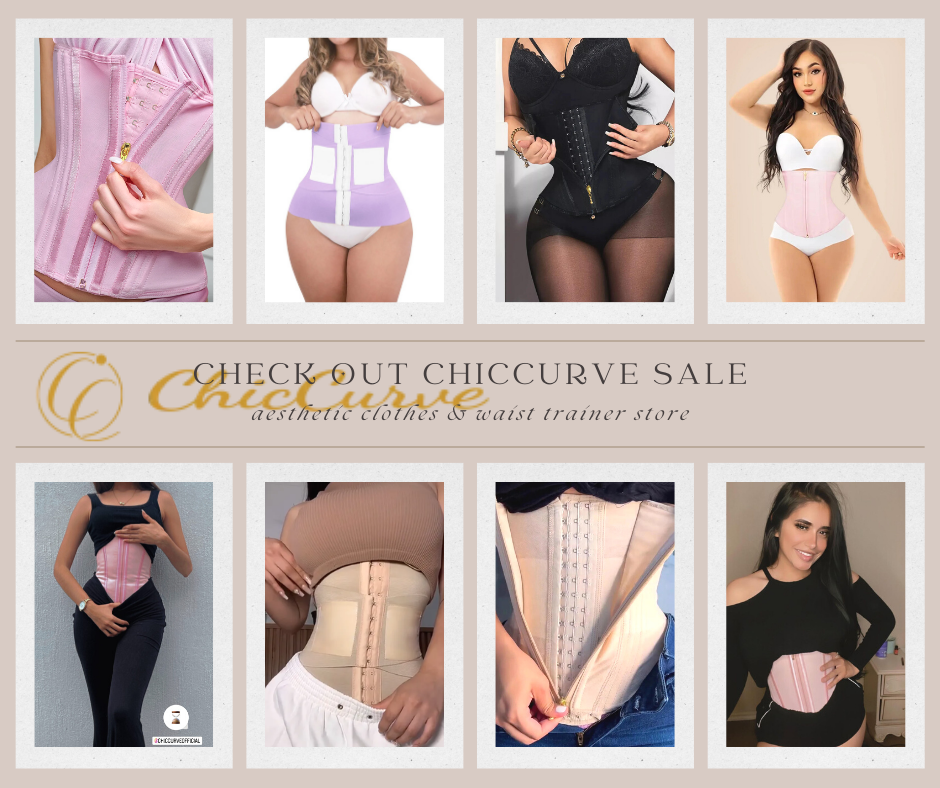 Do you know the history of waist trainers?
The waist trainer can be traced back to the 16th century when it was used by noblewomen as corsets to shape their body curves. In the 19th century, corsets became a fashion symbol and were widely utilized, reaching their peak during the Victorian era. However, the corsets of that time were often overly tight and uncomfortable, resulting in some negative impacts on physical health.
In recent years, with the rise of fitness and body shaping, waist trainers have once again garnered attention. They have been redesigned to offer improved comfort and functionality, and have been widely promoted as fitness tools that can help shape the waistline. The popularity of social media has also played a significant role in the proliferation of waist trainers. Many celebrities and social media influencers have started showcasing the effects of using waist trainers, further fueling their popularity. Designer Amy from ChicCurve, who loves blending fashion and fitness, has created our unique waist corset style.
Which ChicCurve waist trainer is the best?
It depends on which kind of waist trainer you want to buy, ChicCurve has more than 15 styles of corset and trainer. if you are trying to be more fashionable, you can choose several styles of waist trainers below.
This waist trainer is designed for petite body types, and it's hard to resist the charm of the pink color. Whether you're choosing stylish accessories, party decorations, or dresses, you can wear this pink waist corset. It features 15 steel bones for support, a front zipper, and three rows of hooks that are key to ensuring its effectiveness. It's made of 52% nylon and 48% spandex. Each size has a different length, so please refer to the size guide on the product page for specific measurements.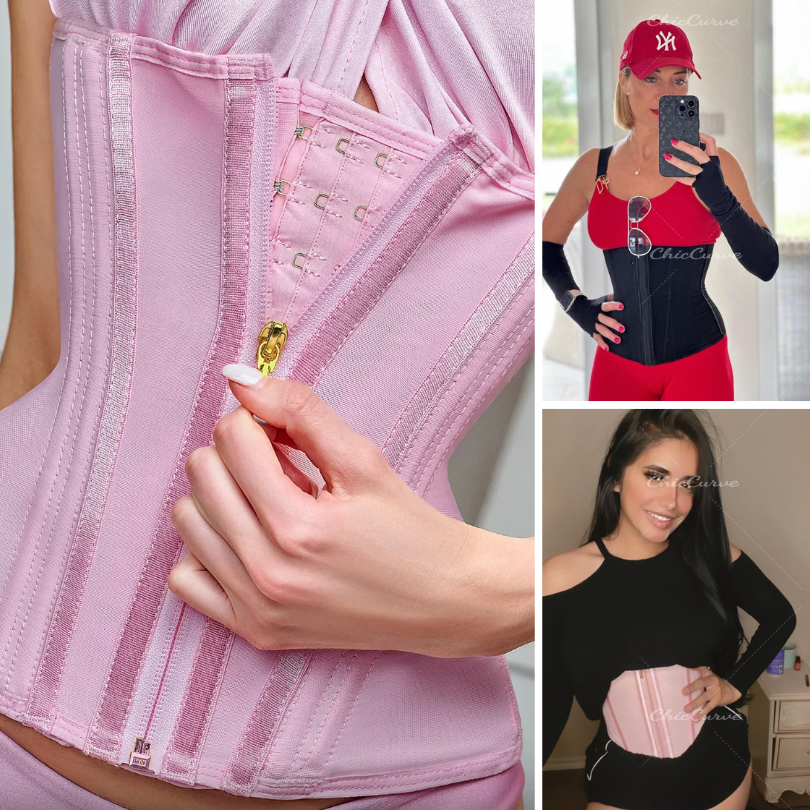 Ref10060 waist trainer is thoughtfully designed to provide maximum support and enhance your natural curves. The convenient front zipper and three rows of hooks provide customizable compression and a secure fit. You can easily adjust the elasticity to your preference, ensuring a comfortable and effective waist training experience. Provides excellent lumbar cinching and posture correction. High-quality material ensures a snug fit along with breathability and freedom of movement.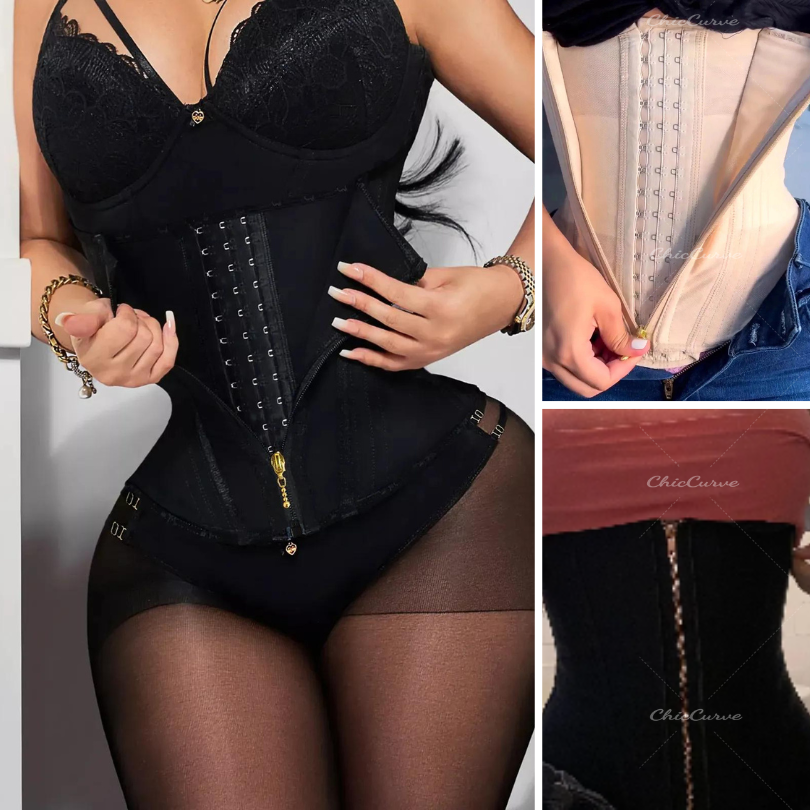 With its unique vest design, this waist trainer covers not only your waist but also your upper abdomen and back, providing comprehensive support for your entire midsection. The adjustable hook and eye closure allows for a customizable fit, ensuring maximum effectiveness and comfort.
Whether you're looking to enhance your posture, slim down your waistline, or achieve a more confident silhouette, Chiccurve extreme latex corset waist vest is the perfect choice. Embrace the transformative power of waist training and experience remarkable results for yourself.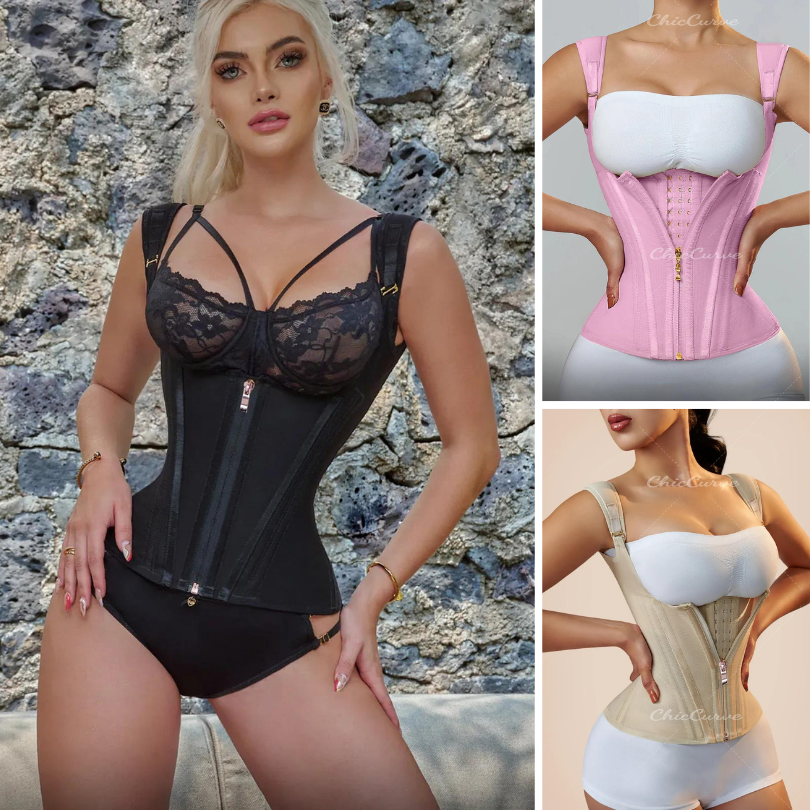 Invisible velcro hourglass type waist trainer, the discreet and convenient solution for achieving an enviable hourglass figure. This waist trainer is designed with your comfort and convenience in mind, allowing you to shape your waist effortlessly. Say goodbye to bulky and uncomfortable waist trainers. Experience the comfort, flexibility, and effectiveness of our Invisible Velcro Hourglass Type Waist Trainer, and embrace the journey to a more confidence you.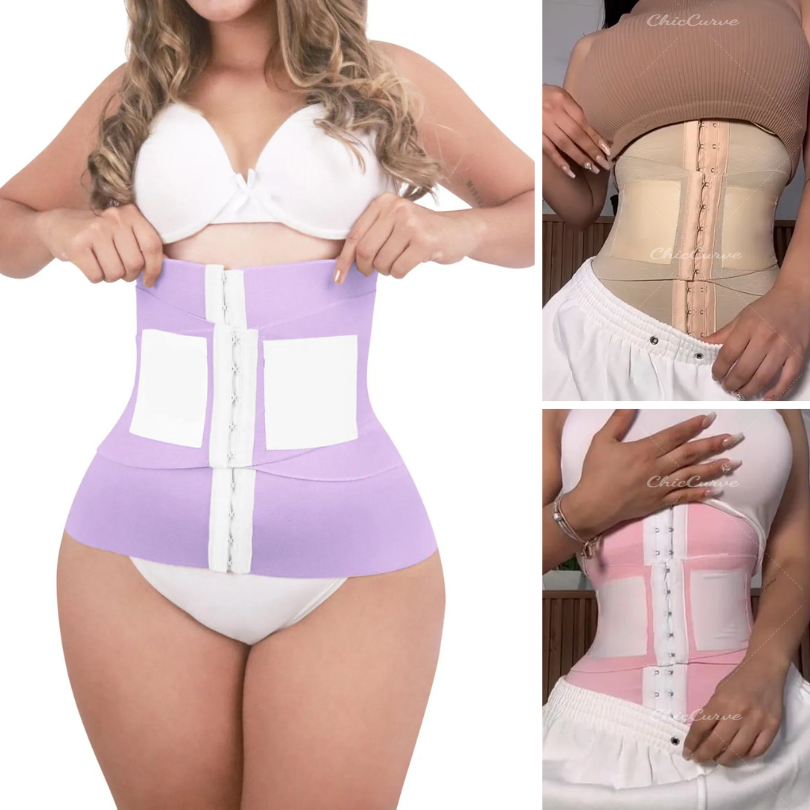 Chiccurve think pink waist trainer 1002 features adjustable hooks and eye closures, allowing you to customize the level of compression for a comfortable fit. Its discreet design makes it easy to wear under your favorite clothing, providing a seamless and slimming effect. Whether you're looking to enhance your curves or improve your posture, our pink waist trainer is a must-have accessory.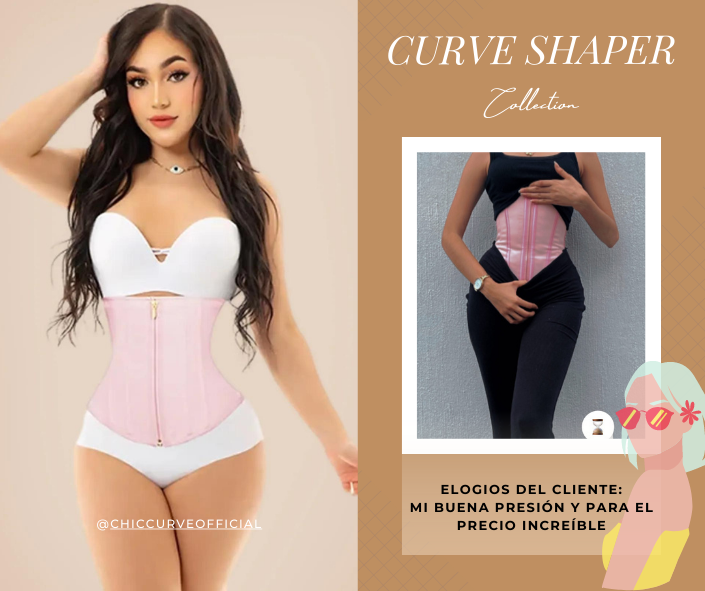 What are the different colors and sizes available for the waist corset style from ChicCurve?
ChicCurve's waist corset styles offer a range of different colors and sizes to choose from. Here are some examples:
Colors:
Classic Black
Elegant White
Chic Pink
Blue
Vibrant Purple
Subtle Gray
Playful Teal
Sizes:
XS (Extra Small)
S (Small)
M (Medium)
L (Large)
XL (Extra Large)
XXL (Double Extra Large)
3XL (Plus Size Large)
Please note that the availability of colors and sizes may vary depending on the specific waist corset style. It's always recommended to check ChicCurve's official website or contact their customer service for the most accurate and up-to-date information on color and size options. Check out our size guide here.
What are the features of the waist corset style from ChicCurve?
Unique Design: ChicCurve's waist corset styles are based on the concept of blending fashion and fitness, emphasizing a unique design aesthetic. These styles incorporate fashion elements, making them not just functional fitness tools but also showcasing a sense of style.
Comfort: ChicCurve prioritizes providing a comfortable wearing experience. Their waist corset styles are made with high-quality materials and incorporate principles of ergonomics to ensure comfort during wear, avoiding unnecessary discomfort.
Support: ChicCurve's waist corset styles are designed to provide effective support for the waist. The designs take into consideration the curves and shape of the waist, ensuring sufficient support during training to help shape the waistline.
Adjustability: ChicCurve's waist corset styles often come with adjustable features, allowing individuals to customize the tightness according to their personal needs and comfort. This ensures that everyone can find the most suitable level of tightness.
In summary, ChicCurve's waist corset styles offer users a fashionable and practical choice for waist training through their unique design, comfort, support, and adjustability.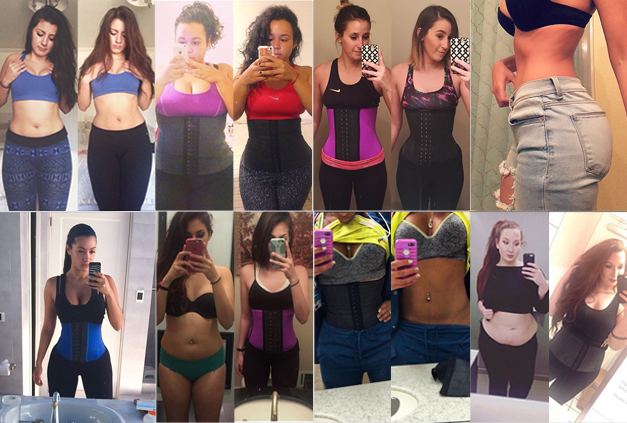 Image from Google
What are the precautions when using a waist trainer?
Choose the right size: Ensure that you select a waist trainer that fits your body size appropriately. A size that is too small may cause discomfort and breathing difficulties, while a size that is too large may not provide enough support.
Adaptation period: Give yourself an adaptation period to gradually get used to wearing the waist trainer. During the initial uses, avoid tightening it excessively and don't wear it for extended periods each day, allowing your body to gradually adjust.
Pay attention to comfort: The waist trainer should provide a comfortable sensation and should not restrict breathing or cause intense discomfort. If you experience pain, breathing difficulties, or any other discomfort, remove the waist trainer immediately. Don't ignore signals from your body.
Moderate use: Avoid excessive reliance on the waist trainer and refrain from wearing it continuously for long durations. It is recommended to wear it for no more than 6-8 hours per day. Giving your body time to rest and recover is important.
Combine with a healthy diet and exercise: The waist trainer alone cannot produce waist reduction effects. Combining it with a healthy diet and moderate exercise will yield better body-shaping results.
Consider personal health conditions: If you have any health issues such as back pain, breathing problems, or digestive issues, or if you are pregnant, it is advisable to consult a doctor before using a waist trainer.
Maintain cleanliness: Regularly clean the waist trainer to ensure hygiene and comfort. Follow the cleaning methods and guidelines provided by ChicCurve's waist trainer instructions, using appropriate cleaning agents.
A waist trainer is an auxiliary tool, and proper and moderate use is crucial. If you have any questions or concerns, it is recommended to seek professional advice from a doctor or fitness expert.
How to properly adjust the tightness of a waist trainer?
Initial Adjustment: Before putting on the waist trainer, ensure that it is in a loosened state. This will avoid unnecessary pressure on the body during the adjustment process.
Gradually Tighten: Wrap the waist trainer around the upper and lower waist, making sure it is positioned properly. Then gradually begin tightening the waist trainer, but be careful not to overtighten.
Maintain Comfort: The waist trainer should provide some support but should not restrict breathing or cause discomfort. Make sure you can still breathe freely and feel relatively comfortable.
Activity Testing: Perform some light activity tests such as bending, twisting, or sitting down. If you feel discomfort or limited movement, you may need to loosen the waist trainer slightly.
Personalized Adjustment: Everyone's body shape and sensation are different, so the adjustment process may require some trial and error. Based on your own feelings, fine-tune the tightness of the waist trainer to find optimal comfort and support for yourself.
The purpose of a waist trainer is to provide moderate support and shaping effects, not excessive restraint or discomfort. If you experience pain, breathing difficulties, or any discomfort, remove the waist trainer immediately, adjust the tightness, or consult a healthcare professional for advice.
Comment